Siren's Song 
(The Storm Siren Trilogy #3)
by Mary Weber
Publisher: Thomas Nelson / HarperCollins
Release Date: March 1st 2016
Genre: Young Adult, Fantasy, Magic, Fiction, Paranormal
Rate: 4 out of 5 stars
Synopsis:
Nym and Draewulf prepare to face off in a battle destined to destroy more lives than it saves.
With the loss of Tulla still fresh in mind, Rasha's fate unknown, and Lord Myles taken over by the dark ability, Nym and the few Bron soldiers rush to warn Cashlin's queen. Only to discover it may already be too late for the monarch and her eerie kingdom. As the Luminescents are sifting through Nym's past memories and the queen is reading into her future, Nym is given a choice of how to defeat Draewulf, but the cost may be more than she can bear. And even then there are no guarantees.
With that reality burrowing into her bones—along with the guilt of the lives she will sacrifice—Nym returns to her homeland of Faelen to raise an army of peasants through promises of freedom. But when the few friends she has left, along with the world and citizens she loves, are staring down the face of a monster and his undead army, will Nym summon every element her blood is capable of controlling . . . or surrender to a different strength—one of sacrifice?
Because in the end, death may be more merciful for them all.
(I received a free copy of this book in exchange for a review).
(This review may contain spoilers).
Having read the previous two books in this trilogy, I was really happy to have the opportunity to read the third and final book. While I didn't remember everything about the previous two books, it was fairly easy to pick up this book and enter Nym's world once more.
While reading, I felt that a lot of time had been skipped over between the second and third book. I thought it was good to see that Eogan was suffering from what had happened in the previous book, though, instead of it just being glossed over.
I wasn't sure what to make of Myles' character… even by the end of the book. I thought it was good to see that most of the characters weren't fully good or fully bad, though, and Myles was a really good example of that.
It was interesting to see Nym having to return to one of the towns where one of her previous owners lived. Although I did start to understand more about her past as the book went on, I still found I had some unanswered questions by the end… and her dreams seemed a little disjointed.
It was nice to have the opportunity to see more of Nym's world, but I would have liked to see her interacting a bit more with some of the minor characters. Kel was really sweet and I enjoyed seeing him with Nym… but I felt I didn't get a chance to get to know many of the other characters individually. While I understood that it was important for the people as a whole to survive, I would have liked to see a bit more of the individuals.
There were some really good elements of foreshadowing in this book, as well as a lot of good bits of tension. I did feel that many of the characters who died weren't shown enough to allow me to care about their fates, though.
I did think this book was well-written and it was really easy to read. While I was somewhat disappointed by the abrupt switches between first person POV characters, I did want to keep reading this book and find out what would happen next. It's disappointing that the trilogy has come to an end.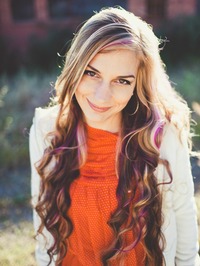 Mary Weber is a ridiculously uncoordinated girl plotting to take over make-believe worlds through books, handstands, and imaginary throwing knives. In her spare time, she feeds unicorns, sings 80's hairband songs to her three muggle children, and ogles her husband who looks strikingly like Wolverine. They live in California, which is perfect for stalking L.A. bands, Joss Whedon, and the ocean. Her debut YA fantasy novel, 
STORM SIREN
 and 
SIREN'S FURY
 are available now in bookstores and online, and SIREN'S SONG will be out March 2016 from TN HarperCollins.