Rise of the Wolf 
(Mark of the Thief #2)
Publisher: Scholastic Press
Release Date: January 26th 2016
Genre: Young Adult, Fantasy, Historical, Fiction, Mythology, Magic, Adventure, Action, Juvenile
Synopsis:
Nic may have escaped enslavement in the mines outside of Rome, but his troubles are far from over. The Praetor War–the battle to destroy Rome from within–is in full force, and Nic is caught in the crossfire. The secretive Praetors are determined to unlock a powerful amulet–one sure to bring the empire to its knees. Worse, the Praetors believe Nic holds the key to finding this amulet, and they will stop at nothing to steal it, even if that means harming the people Nic holds most dear.
When the Praetors capture Nic's mother, Nic knows he must do anything to save her. He challenges the Praetors to a chariot race. If he wins, they will release his mother. But if he loses, he must hand over a magic that will certainly destroy Rome and end his own life. Can Nic once again harness his magic and gather the strength to defeat his enemies? Or will he lose his mother and bear witness to Rome's destruction?
Guest Post
ALL RESEARCH SHOULD BE LIKE THIS
by
Jennifer A. Nielsen
As a writer, I learned two invaluable lessons about research while writing the MARK OF THE THIEF series. These lessons continued to serve me while working on the second book, RISE OF THE WOLF, which was just released.
The first lesson is to always set a novel in a place you've been dying to visit. Because once my publisher signed off on this series, I just had to – hear that, IRS? – had to go to Rome.
I really did, because when it comes to researching an empire that dominated much of the world for around five hundred years, well, there are some things you just have to see. I could spend (well, did spend) endless hours in books and researching online, but there are limits to that. Where Rome is concerned, that limit involves scale. Because I could look at pictures forever and still not have a proper understanding of how big the empire was.
Consider this picture of an aqueduct. We just happened to pass it as we were walking up a road to a hill town (because in Italy, apparently it's a totally normal thing to just happen to pass a two-thousand-year old ruin by the side of the road.) If you were standing on the top of this aqueduct, most of your body would still fit inside the picture. These things were huge!
Distance and height are also hard to estimate when only studying maps. I needed to know how long it should take to get from the Roman forum to the circus, or how close the buildings might have been placed together. When reading about the seven hills of Rome, I wondered, "What does Rome consider a hill?" Because I live in the mountains of Utah, we have very different understandings of a hill than many parts of the world. These are questions that could only be answered by standing on the same stone-paved road where a Roman might have stood in 276 AD, the year in which this series takes place.
So before I started writing the series, I took a trip to Rome. Of course there were the usual things to see: the Colosseum, the Pantheon, Hadrian's Villa, and the list goes endlessly on. Fascinating as they all were, what really impressed me were the details of things I'd never have known about if I only relied on books or online sources. You can't get an answer to a question you didn't even know you should be asking.
Consider this, for example. The stone walls of large buildings were often held in place by these metal straps. But we don't often see those straps in our modern pictures. This is because after Rome fell, much of the metal was taken from the rocks to be used for other purposes. However, for the most part the structures remained standing. Yet in many pictures, all we see are either the holes, or just the stone walls.
I also had the opportunity to speak with experts who had access to facts that aren't necessarily common knowledge. We had a guide named Sophia who pointed out details that made Rome come alive to me. Such as Ancient Roman graffiti on the walls of bars and taverns. Or the location of the world's first shopping mall. Or details such as the color of the sand in the amphitheater when the gladiators fought (usually yellow, because why not have a happy color on the ground when slaves are bludgeoning each other to death?).
A final benefit of having seen the eternal city for myself was what it did for my imagination. For example, while touring the Pantheon, a guide noted that although there are theories of the purpose of the oculus, nobody is really sure exactly how it was used. I stood on the marble floor of the Pantheon and decided I could use the world of MARK OF THE THIEF to come up with a theory, as well as an explanation for what happened to all the bronze tablets that used to line the roof's round interior. (Just wait until you read it in the third book!)
After the trip, there was still a lot more research to be done. In fact, nothing I've ever written required as much research as this book. But I did learn the importance of getting as much firsthand knowledge as possible – not what's been filtered down from other writers' perceptions.
I also learned that I need to write a lot more books that require me to travel. For my next research trip, I'm thinking a story set on the beaches of the Caribbean is an absolute must.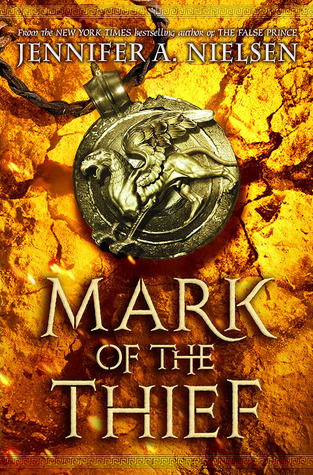 Jennifer lives at the base of a very tall mountain in Northern Utah with her husband, three children, and a naughty puppy. She loves the smell of rainy days, hot chocolate, and old books, preferably all at once. She is a former speech teacher, theater director, and enjoyed a brief but disastrous career as a door-to-door pollster. In her spare time, Jennifer tends to panic, wondering what she has forgotten to do that has allowed her any spare time.