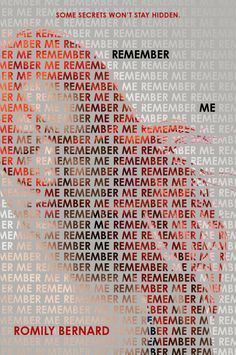 Remember Me (Find Me #2)
Publisher: HarperTeen
Release Date: September 23rd 2014
In the sequel to Find Me, Wick Tate, sarcastic teen hacker, is back and once again dealing with criminals and corrupt cops…and a brooding new love interest. Will Wick persevere when some secrets refuse to stay hidden?
Wick had thought her troubles were over.
But she should've known better.
Not only is she embroiled in a new murder case, which starts with a body with "Remember Me" carved into it and doesn't stop there, but she also discovers new evidence surrounding her mother's suicide…which leads her right back to her imprisoned deadbeat dad. And she has to deal with her flirty new hacker friend, Milo, sniffing around—which her boyfriend, Griff, isn't too happy about.
The pressure might be too much as secrets—including Wick's own—climb to the surface.
Remember Me is an edge-of-your-seat thrilling read that'll have readers turning the pages at lightning speed! The paperback of Find Me is on sale simultaneously, and a digital original novella from Romily, featuring Griff, is on sale just a few weeks before!
(I received a free copy of this book in exchange for a review).
(This review may contain spoilers).
I've read a couple of books that have computer hackers as main characters in before. This book was kind of darker than I was expecting, but I actually did find it to be really well-written and the plot was intriguing enough to hold my attention throughout.
I don't like multiple first person viewpoints, but I do like first person perspective if it's just one character and I felt that Wick was a character I could really relate to. Some of the things that happened to her (and other characters' reactions) kind of brought some bad memories back for me, though, and that was a bit difficult to read at times.
The other characters were fairly interesting as well. I liked Wick's relationship with Griff and I found it believable, including the conflicts that rose. I would have liked to know a bit more about Griff's past and motivations, but I felt it was sweet how much Wick wanted to protect him and he wanted to protect her… but I have some mixed feelings about them as a couple, even though I did like the relationship.
I'm really not a fan of love triangles, but Milo was an interesting character as well. I just kind of feel that love triangles have become too prevalent in books (especially young adult ones), so I can find them a bit off-putting when I'm reading about them. I had a conversation with my sister about them fairly recently, actually.
I would have liked to see more police officers. The only one who really appeared was Carson and although he was a character with a bit more depth to him, I really couldn't see him as one of the good guys and I have seen a lot of things that make the police into villains.
I did get a bit confused about all of the different bad guys and their relationship to Wick. By the end of the book, I think I had a bit more understanding over who was what. Also, by the end of the book, I didn't really like Bren that much… though that's probably because I felt very protective of Wick through the book and that's always a good thing.
I felt that this book touched on a few different genres and I also felt that there were some things in this book that came as a bit of a surprise to me. I'd like to read the first book at some point in the future, as well as check out other books by this author.
I graduated from Georgia State University with a Literature degree. Since then, I've worked as a riding instructor, cell phone salesgirl, personal assistant, groom, exercise rider, accounting assistant, and, during a very dark time, customer service rep.
So don't let anyone tell you a BA degree will keep you unemployed.
Win (1) of (2) signed paperbacks of Find Me + Remember Me by Romily Bernard (US Only)